At Enstor, safety is paramount to every decision we make. We integrate safety into the various aspects of our business planning and use our Safety Management Program to guide our decision-making. Our Safety Management Program is designed to include occupational health and safety, process safety, and emergency response to better guide our employees and achieving our goal of 'do no harm and everyone goes home safely – everyday'.
Our most important obligation is to protect the safety and wellbeing of our workforce and members of the communities in which we operate. Our employee culture is proactively focused on situational awareness and preventative measures and includes actively engaging employees in awareness and training regularly. At Enstor, our management leadership drives safety as our number one priority – everyday. Furthermore, all personnel working or visiting an Enstor site have the authority, responsibility, and support to stop work when any unsafe act or condition is recognized or suspected.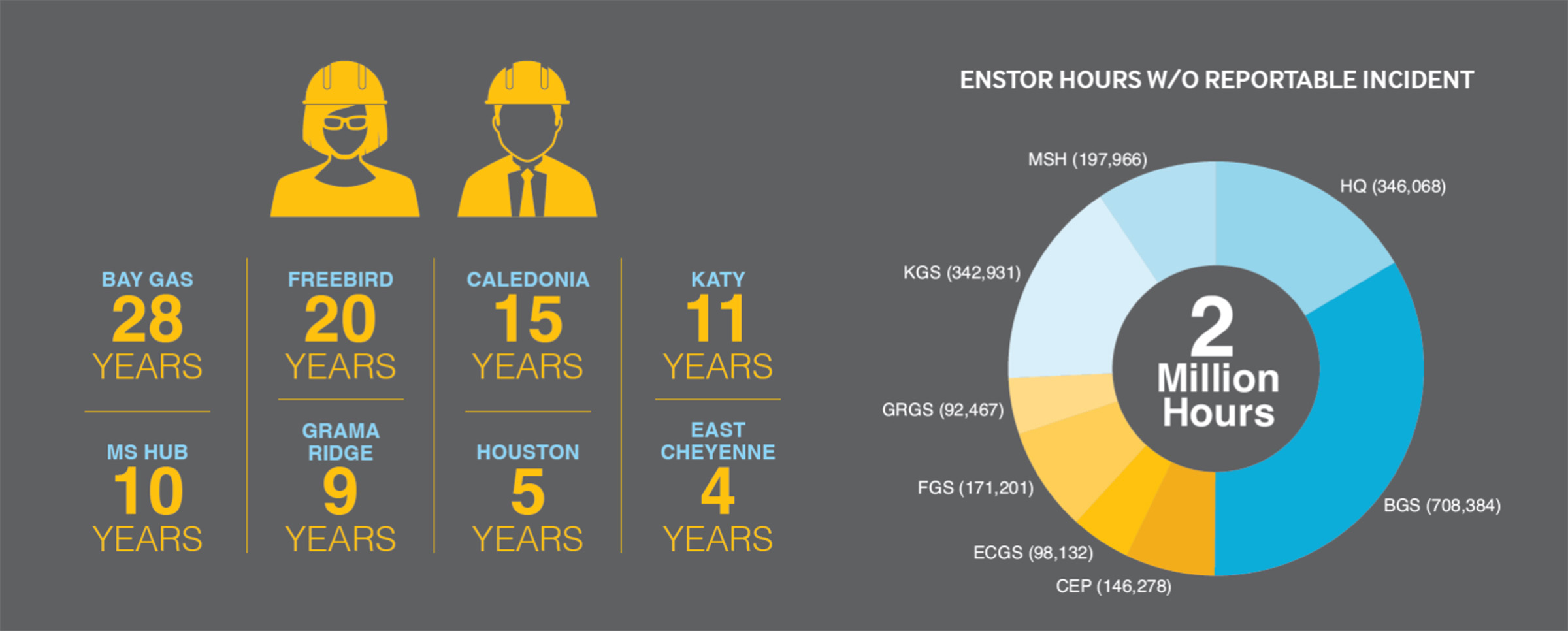 In 2021, Enstor's Bay Gas and Freebird facilities celebrated 28 and 20 years, respectively; of operations without a recordable incident. In recognition of this achievement, both facilities received the Award of Superior Achievement for workplace safety from the State of Alabama Department of Labor.
Our team in Katy, Texas provided the Willowfork Fire Department with a facility orientation tour to raise awareness of how our work is conducted and how the fire department can support emergency response efforts, should they occur. Building relationships and trust with local first responders is paramount to Enstor's commitment to responsible operations and contributing to its community's safety and wellbeing.
Training provides opportunities for our employees to learn new skills, enhance their knowledge, and strengthen Enstor's culture of championing safety and environmental responsibility. We actively provide coaching and training opportunities for our employees to improve their expertise and abilities. Our office personnel, including management, are assigned ten OSHA courses at the start of their employment, while field personnel are assigned approximately 60 OSHA online training courses dependent on their roles and responsibilities. Employees must complete their assigned safety training within the required regulatory established frequencies.
| | |
| --- | --- |
| Depleted Reservoir | |
| Salt Cavern | |